(English Below)
Baturay Yarkın'ın ikinci solo piyano albümü Inside, 22 Temmuz'da tüm dijital platformlarda!
Piyanist, besteci ve aranjör Baturay Yarkın'ın ikinci solo piyano albümü Inside, 22 Temmuz'da Ahenk Müzik etiketiyle tüm dijital platformlarda yerini aldı.
Baturay Yarkın, çoğunu pandemi döneminde bestelediği eserlerini, ikinci solo piyano albümü Inside çatısı altında topladı. Albümde yer alan ve sanatçının iç dünyasını yansıtan 3 beste Dream, Sleep ve Just Keep Going, albüm öncesi single olarak tüm dijital platformlarda yayınlanacak. Inside albümü, son iki yılda yaşanan belirsizlikleri, gerginlikleri, durgunluğu ve sakinliği; kısacası hayata dair tüm duyguları, sanatçının rüyasından ve iç dünyasından açılan pencereyle buluşturuyor. Albümdeki eser isimleri, pandemi dönemiyle simgelenen iç dünyayı ve pandeminin etkilerinin azalmasıyla oluşan yeniden uyanışı anlatıyor.
Bu yansıtılan birbirinden farklı duygular, müzikal zıtlıkların tek başına aktarılabildiği piyano enstrümanıyla yorumlandı. Modern armonik yaklaşımların ve aksak usullerin kullanıldığı albüm, umudun daima hissedilmesi gereken bir bilinç, farkındalık ve yaşam felsefesi olduğunu anlatmayı; nefes aldığımız sürece uyanışın her an mümkün olduğunu amaçlıyor.
Sanatçının geçtiğimiz yıl yayınlanan ilk solo piyano albümü Hope ile aynı günlerde kaydedilen Inside, taşıdığı anlam ve vermek istediği mesaj olarak Hope albümünün devamı niteliği taşımaktadır.
Aynı zamanda İstanbul Üniversitesi Devlet Konservatuarı Müzik Bölümü Caz Anasanat Dalı'nda Öğretim Görevlisi olan sanatçı, daha önce Yarkın Duo, Baturay Yarkın Trio ve TangEsta toplulukları ile 6 albüm yayınladı. Inside, sanatçının yedinci kişisel ve ikinci solo piyano albümü olma özelliğini taşımaktadır.
Piyanist & Besteci: Baturay Yarkın
Yapım Şirketi: Ahenk Müzik
Stüdyo: Pür Recording Studio
Kayıt Tarihi: 07-08.01.2021
Yayın Tarihi: 22.07.2022
Mix-Mastering: Ozan Sarıer
Kapak Fotoğrafı: Sevinj Yusifova
Inside'ı Spotify & Apple Music 'te dinle
 ————————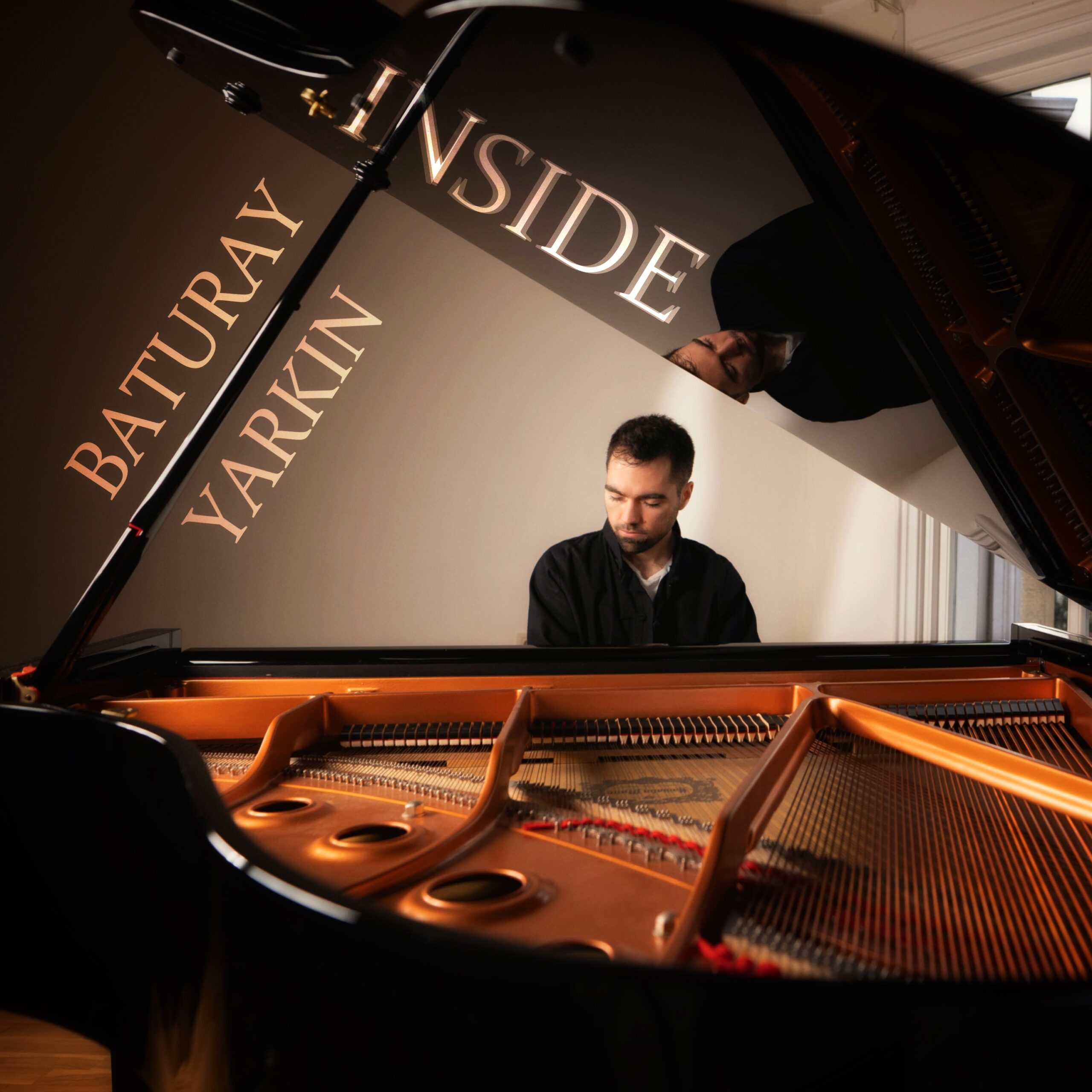 Pianist, composer and arranger Baturay Yarkın's second solo piano album, Inside, is available on all digital platforms, produced by Ahenk Music.
Baturay Yarkın gathered his works, most of which he composed during the pandemic, in his second solo piano album Inside. Three compositions; Dream, Sleep and Just Keep Going, which are included in the album and reflect the artist's inner world, will be released on all digital platforms as pre-album singles. The uncertainties, tensions, stagnation and calmness experienced in the last two years; in short, all the feelings about life can be seen as a window opening from the artist's dream and inner world. The titles of the tracks in the album describe the inner world symbolized by the pandemic period and the re-awakening that occurred with the decrease of the effects of the pandemic.
These different emotions were interpreted with the piano instrument, on which musical contrasts can be conveyed alone. The album, in which modern harmonic approaches and Turkish rhythm patterns usuls are used, tells that hope is a consciousness, awareness and philosophy of life that should always be felt. Inside also aims that awakening is possible at any moment, as long as we breathe.
Inside is a continuation of Hope, the artist's first solo piano album released last year, in terms of its meaning and the message it wants to convey.
The artist, who is also an Instructor in the Jazz Department of the Istanbul University State Conservatory Music Department, has previously released 6 albums with Yarkın Duo, Baturay Yarkın Trio and TangEsta ensembles. Inside is the seventh personal and second solo piano album of Baturay.
Pianist & Composer: Baturay Yarkın
Recording Label: Ahenk Music
Studio: Pur Recording Studio
Recording Date: 07-08.01.2021
Release Date: 22.07.2022
Mix-Mastering: Ozan Sarier
Cover Photo: Sevinj Yusifova
Listen to Inside on Spotify & Apple Music