Baturay Yarkın (1991) was born in a family, full of generations of musicians. He resides in İstanbul, where had been a historical and cultural center of various civilizations. He won first place in Istanbul University State Conservatory, Department of Classical Piano part time program at the age of 7. He won 3rd place for European Young Pianists Competition at the age of 12, training with Prof. Meral Yapalı. He studied classical music, jazz, Argentina tango, Turkish music and composition until doctoral level graduation.
He joined Yarkın Turkish Rhythm Group and performed national and international events during his high school days. The band took the stage with Ministry of Cultural Affairs İstanbul State Symphony Orchestra for an event organized for 2013 Turkish – China Year in China. He gave a special concert at Aya Irini as part of Ara Dinkjian and His Friends in 2011. He improved his skills on playing with musicians who played fretless instruments during that time.
His tango and jazz passion took him to Rotterdam Conservatory, Codarts; where he expanded his knowledge in world & jazz music and collaborated with international musicians for the first time. He attended tango workshops of worldwide musicians such as Color Tango, Los Reyes del Tango and Gustavo Beytelmann. He contributed to Şevval Sam's 2013 album called Tango. He played Argentine tango songs in various concert halls in the Netherlands with OTRA assembled by Leo Vervelde. He played for A New Year's Concert from Louis Armstrong to Astor Piazzolla at CRR Concert Hall. Tangueros de Estambul is the debut album of TangEsta, which was established by bandoneon player Ortaç Aydınoğlu. The group took part in various cities in Turkey, prestigious 15. tanGO TO Istanbul in Turkey, Grand Night Tango in Almati/Kazakhstan and in Sonido Tango Festival as the first tango orchestra from Turkey which performed in Argentina.
After being admitted with a scholarship to BAU Jazz Institute in İstanbul, he played with his quartet as young jazz artist at Istanbul Jazz Festival in 2014. In the following years, he attended Chick Corea, Pulawy Jazz, New York Jazz, Eric Alexander, Greg Ozby and Barry Harris workshops. He represented Codarts at the Pop and Jazz Platform, 2016 Rotterdam, organized by The European Association of Conservatoires (AEC). He performed on the major festival stages such as Akbank Jazz Festival and İstanbul Jazz Festival, important concert halls such as Borusan Music House, CRR, İş Sanat and Salon İKSV; and worked with the prominent jazz musicians of Turkey. The hands of the artist were molded during the creation process of the sculptures with the slogan of Hands Touching Jazz for the 26th İstanbul Jazz Festival.
The artist worked with world-known musicians joining Silk Road's (established by Yo YoMa) Global Musician Workshop with a scholarship in 2017. He gave special concerts in Milano as Silk Road Global Musician European Ambassador in 2017 and 2018. He was invited to the U.S.A. to perform as Yarkın Duo and give workshops by Silk Road's GMW in 2018.
He and his sister, Nağme Yarkın decided to collaborate together, launched Yarkın Duo in 2016 and published their debut album One in 2017. Musicians interpret their compositions and arrangements based on their different accumulations which have important cultural backgrounds. They played together in several continents, interpreting their repertoire which consists of Argentine tangos, Turkish folk music, their compositions and improvisations. Duo performed at 1. TURfest Festival in Croatia; then gave a special concert at 17. Boston Turkish Film Festival and Turkish music workshop at Berklee College of Music as part of the festival. They held the opening concert of 1. Turquazz Anatolian Jazz & Roots Festival in London, England. Duo gave a live interview[1] at National TV Channel of Albania, took place at 10. Jazz in Albania Festival in Tirana and 33. Akbank Jazz Festival.
He gave 15 concerts with his band Baturay Yarkın Trio & Nağme Yarkın within his project The Colors of Anatolia – which combines Jazz and Turkish music and was sponsored by Republic of Turkey Ministry Culture and Tourism – in 15 universities in various cities in Turkey. The band, which pointed the importance of multicultural communication, performed in 29. İstanbul Jazz Festival, the jazz festivals in Monaco, France, Montenegro and the Netherlands. The band took part in 2018-19 concert program of Borusan Music House.
He worked with notable musicians such as Sandeep Das, Wu Man, Derya Türkan, Erkan Oğur, Arto Tunçboyacıyan, Halil Karaduman, Yurdal Tokcan, Ara Dinkjian, Sokratis Sinopoulos, Mahala Rai Banda, Koçani Orkestar, Fahrettin Yarkın and reputable jazz musicians from Turkey & Europe.
The artist, also a graduate of Marmara University, Department of Industrial Engineering, has completed his master (2017) at ITU Music Theory and Composition Department and his doctorate (D.M.A.) (2022) at İÜDK Music Department.
His 7 personal albums are available on music markets and digital platforms. He has teaching jazz piano, theory and history as a doctor lecturer in Jazz Department of İstanbul University State Conservatory since 2018.
[1] https://www.youtube.com/watch?v=tbyqTGLGPpg&t=10s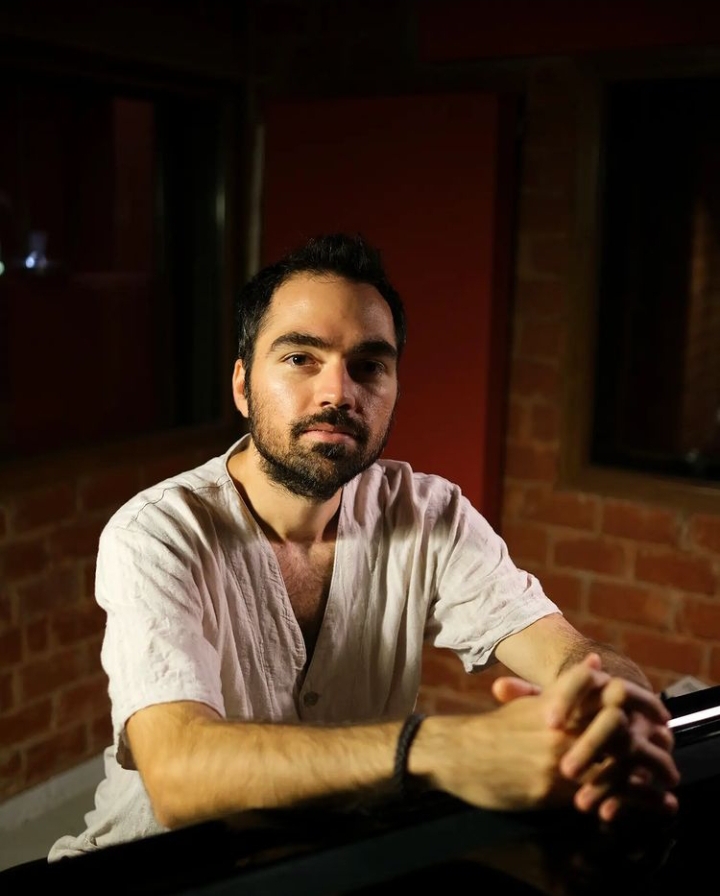 Istanbul University State Conservatory, Doctor of Musical Arts (DMA) in Jazz Department (2018-2022)
Istanbul Technical University Music Theory and Composition Master (2013-2017)
Codarts, Rotterdam / Jazz-Tango Piano Master (Erasmus Exchange Program) (2015-2016)
Istanbul University State Conservatory Piano Department Bachelor (1998-2010)
Marmara University Industrial Engineering (2009-2013)
Baturay Yarkın Trio & Nağme Yarkın – Fiery Desert (2023)
Baturay Yarkın Trio & Nağme Yarkın – Quarantine (2023)
Baturay Yarkın Trio & Nağme Yarkın – Dream Again (2023)
Yarkın Duo – Diyar (2023)
Baturay Yarkın – Evidence (2022)
Evrencan Gündüz – Yavrum (2022)

Baturay Yarkın – Inside (2022)

Baturay Yarkın – Just Keep Going (2022)
Baturay Yarkın – Sleep (2022)
Baturay Yarkın – Dream (2022)
Evrencan Gündüz – Kesso (2022)
Baturay Yarkın Trio & Nağme Yarkın – Üsküdar'a Gider İken (Live) (2022)
Sanat Deliorman – Aşk Kumbarası (2022)
Jülide Bilgi – Buselik Mavisi (2021)
Atakan Akdaş – Selahattin Pınar Şarkıları (2021)

Baturay Yarkın – Hope (2021)

Baturay Yarkın – Calm (2021)
Baturay Yarkın – Quarantine (2021)
Baturay Yarkın Trio & Nağme Yarkın – Autumn Leaves (Live) (2021)
Işıl Kahraman – İç Hayata (2021)
Işıl Kahraman – Hayali Katmanlar (2021)
Işıl Kahraman – Ne Öyleyim Ne Böyleyim (2021)

Yarkın Duo – Quintessence (2020)

Yarkın Duo – Longing (Fire) (2020)
Baturay Yarkın – Lost & Found (2020)
Erkan Zeki Ar – Tecelli (2020)
Burak Cihangirli – For One (2020)
Baturay Yarkın – Breathe Once Again (2019)
Dolunay Obruk – Entropi (2019)

Baturay Yarkın Trio & Nağme Yarkın – The Colors of Anatolia (2019)

Baha Yetkin – The Pearl (2019)
Baturay Yarkın & Gürtuğ Gök – Blue Love (2018)

Baturay Yarkın – Su (2018)

Veys's Jazzy World – Pirate Jenny (2018)

Yarkın Duo – One (2017)

Tangesta – Tangueros de Estambul (2017)

Şevket Akıncı – Escher Chronicles (2017)
Eli ft. Yarkın Duo – Waltz of the Moon (2017)
Ali Rıza Kural – Sevdiklerimin Sevdikleri (2016)
Smart Business – Make It Happen (2016)
İsmail Birateş – Yahya Kemal & Nazım Hikmet (2015)
Şevval Sam – Tango (2013)